Center Inaugurating Conference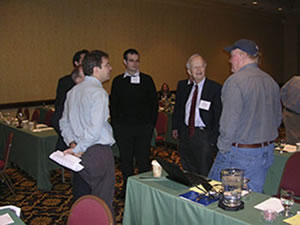 Nobel laureate Gary Becker will be among the notable economists who will be attending the inaugural conference of the Signature Center of Excellence on Human Capital, Technology Transfer and Economic Growth and Development, being held this weekend at the Buffalo Niagara Marriott.
The conference also will be the inaugural event for the new Journal of Human Capital, which will be headquartered at the center and published by the prestigious University of Chicago Press.
The conference is being funded by a $750,000 faculty development grant UB faculty member Isaac Ehrlich received from the New York State Office of Science, Technology and Academic Research (NYSTAR) to establish the Center of Excellence on Human Capital.
The papers to be delivered at the conference "cover a wide range of issues in the economics field involving the role of human capital in the economy," says Ehrlich, SUNY Distinguished Professor and chair of the Department of Economics, College of Arts and Sciences, and director of the center. Ehrlich calls the lineup of presenters and discussants "star-studded," noting that the participants are particularly well-known in the field. Among them are Nancy Stokey, Kevin Murphy and Sam Peltzman of the University of Chicago and Robert Hall of Stanford University.